HOW TO PLAY
::
::
::
::
::
::
::
::
::
::
::
::
::
HIGH SCORES
::
::
::
::
::
::
::
::
::
::
::
::
::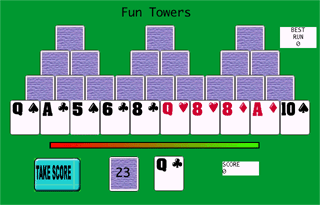 Clear the 3 Towers by playing open cards that are either one above or one below the value of the top card in the Face-Up deck. If there are no available open cards to play, you can turn over the next card in the Face-Down deck by clicking on it. When there are no cards remaining in the Face-Down deck, click the Take Score button to receive your time bonus.
Long runs and quick times result in high scores. If you have 80,000 points at the end of 2 rounds, you can play one more Bonus Round.
Anyone can play
FUNOVEN
, but you must be a member to join a circle. To become a member,
sign up here
!
The games on FunOven require the Shockwave Player. Click the link below to download the latest version.